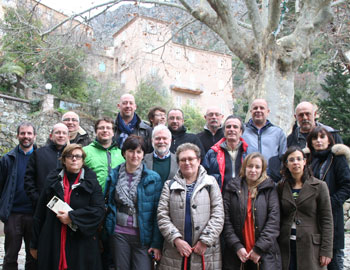 Partners in a new European heritage project will be visiting Gatehouse in May.
At a meeting in Bastia Corsica partners in a new European Heritage project agreed to visit Gatehouse in May to learn of the experience of the Gatehouse Development Initiative in promoting the rural heritage of Gatehouse by involving the people of Gatehouse in community projects.
The Grundtvig Life Long Learning project 'Rural Heritage Promoters were shown a presentation featuring a number of of Gatehouse Development Initiative projects. The partners in the project, which include representatives from France, Germany, Spain and Portugal were particularly interested in the recent Trusty's Hill project which has involved training local people to lead walks to Trusty's Hill as well as a school project where pupils from Gatehouse have worked with an archaeologist , writer and artist to create a saga about life at Trusty's Hill. The project members were also very interested in the project to tell the story of the McMurray photo collection of Gatehouse one hundred years ago which has recently come to light.
The purpose of the project is to share experience of the local heritage and to learn how different communities have involved their local people and made them ambassadors for the local heritage. In an interview with Corsican television, GDI chairman David Steel emphasised the importance of communities from across Europe working together and learning from each other.


This project has been funded with support from the European Commission. This publication reflects the views only of the author, and the Commission cannot be held responsible for any use which may be made of the information contained therein.